"These poems—both stark and loving— are an act of documentary poetics, an archive of a life, and a tribute to a friendship. Daniel Johnson presents us with the facts of James Foley's life, and the echoes of his death. Foley, in these pages, embraces the shadow, even as he is—always—moving into the light. A question is asked: 'What do we do with the body?' And the heartbreaking answer comes: 'And what do we do, what do we do without?'"  
nick flynn / may 2020
"Reading Daniel Johnson's Shadow Act, I feel like I got to know Jim Foley all over again. His character is both elusive and wonderfully present, if mainly in brief, sharply illuminated bursts. Johnson evokes his eerily resonant smile, always with one eye towards the horizon, in deft, darting language that doesn't waste a word. Jim's comings and goings, in and out of often exotic locales, contrast with the intimacy of Johnson's domestic life, the love within a family that grows steadily and continuously over the course of the book."
–Clare Morgana Gillis, one of the journalists captured and detained alongside Foley in Libya in 2011
"Death may take away a lot of things but not our words, not our stories, not our memories, and certainly not our desire to shape meaning in the face of all the darkness.  The world may deliver terrible things, but it can never outweigh the music of friendship, beauty, insight and courage. These poems are simple in the very way that oxygen is simple … and just as vital.  Johnson has done something that James Joyce called on us to do: to recreate life out of life."
–Colum McCann, National Book Award-winning author of Let the Great World Spin and Apeirogon
"The collection's breaks and interweavings represent a coming to terms with bereavement. The poet writes beautifully of love tempered by loss, chafing at the inadequacy of language before demonstrating its power to preserve transcendent, humble moments…"
"'Shadow Act: An Elegy for Journalist James Foley' is a grieving achievement, a collection of heaving force and tenderness, exploring "absence, presence, & the shining, alchemical ever-presence of absence."
Nina Maclaughlin, Boston Globe
In his second collection—a powerful act of documentary poetics a decade in the making—Johnson chronicles the perils and joys of fatherhood and a shattering tragedy that plays out thousands of miles away. Nearly two years after the poet's closest friend went missing, journalist James Foley was executed by ISIS in Syria. In this poetic daybook like no other, Johnson often speaks directly to his missing friend—"I don't know, Jim, where you are," even long after his death. Page to page, Foley ghosts in and out of the book, as the poet hails the birth of children, recounts hunting for the body of a neighbor's missing cat, and, later, pores over the hand-written pages that Foley smuggled out of a Libyan prison in his shoe. An educator and poet, Johnson has crafted a vibrant, urgent collection that pulses with the terror and hardship Foley faced, the anguish of those he left behind, and the everlasting friendship between the two men. During a time of great collective trauma and mourning, this heartfelt, formally rich collection tackles the question: "How do you go on living, loving, and creating in the face of unthinkable loss?"
Missing
There, then not. A late summer whiff
of something gone. It depended on the wind.
I checked the trash, after Ebele asked—
no maggots, no rancid fat globbing 
the bin's lid—hunted through bushes, bellied 
under the latticed front porch. Tuesday, 
Wednesday: 85, 90 degrees. The stink massive. 
A squirrel, a raccoon? Too rank to be 
a chickadee wind-swept from its nest.
My panic grew. Now, I think I know why. 
I waded into shoulder-high hydrangeas, 
greened with blooms, parted the branches—a blue 
plastic bag, beer bottle cap, a skull-shaped 
rock. Then I saw it—a patch of white, 
matted there, sticks piercing the spongy form. 
I covered my mouth & nose, retreated 
to the bulkhead for leather gloves, a bandana, 
& a small coal shovel. As I worked, I made out 
hind legs, splayed, the orange & white 
marbled fur—carrion beetles writhed, quaking,
once more, the belly of my neighbor's cat.  
What do I do with the body? I asked Ebele. 
This was the cat that leapt from a tree
onto the roof of the red Colonial on Delano 
& survived for weeks, eluding firemen 
who telescoped their ladder out, this the cat, 
while I sat at my desk each morning to write, 
that padded down the front steps
of my elderly neighbor's house, jumped the chainlink 
& crossed the boulevard, stepping 
between magnolias. Your calico cat, I fear,
has died in my hydrangea bush, I started the letter
to my bed-ridden neighbor. Though we needed
to get rid of the body, though the heat thickened
& soured, I spent hours laying down 
my words, striking, double-striking them, 
starting, again. This, I needed to get right. 

Inshallah
-for Diane & John Foley
When it was over,
though it would never be over,

Jim's mom sent a gift
to our house,

a chrome lamp & candles,
a tornado lantern 

or hurricane lamp. It depends 
what you call 

that black wall of water, 
skirling & rising,

that takes what it wants:
cars, refrigerators, 

cows, wedding 
photos, birth records—

inshallah—
your firstborn son. 

When it was over, 
though it would never be over,

as it would never be
before again, only after,

as the rains, the rains 
would never be the same 

rains or lashing waves—
I struck a match 

against the flooding dusk,
then, again,

& hung the lamp.

In The Press
&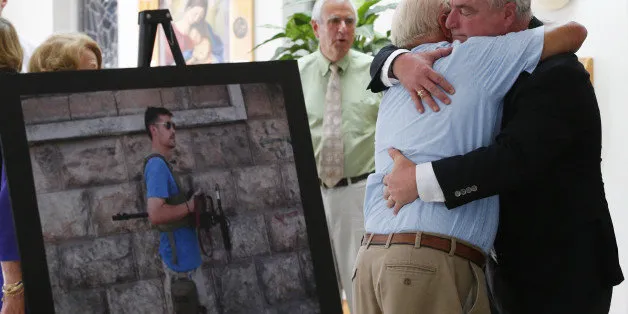 I don't know that poetry has helped me understand or accept Jim's death—nothing could probably do that—but I've been able to speak to Jim, to ask him questions, to spend my winter mornings with him, despite his long absence.

Daniel Johnson, McSweeney's Press